👉 Software education by a McLloyd specialist
👉 Access to support via email or phone
👉 Replacement equipments ships within 5 business days
👉 No cost 30 day trial period
👉 We source the best shipping options available. Our products are delivered in professional transport cases (60 * 80 * 45cm, ~ 18kg) by premium DHL-type carriers.
👉 In the event of a product return, the customer assumes return shipping costs.
From: $299.00 HT / month with 1 month free trial and a $250.00 sign-up fee
"Sign-up fee" corresponds to delivery costs

This price

corresponds to a 5-units pack. (If you need more units, please ask for a custom quote)


McLloyd Sport Tracking V4 is a benchmark GPS / GNSS sensor in professional sport. It is used by many professional athletes, specialist coaches and teams. It is a tool specially designed for improving performance. It can be used for physical preparation or as a live tactical tool during matches. The equipment is delivered in a transport case containing all the elements. Once the equipment has been received, installation and initial training will be provided via a dedicated telephone session with one of our product experts.
5 STv4 GPS units with real-time data (If you need more units, you can also for a custom quote)
Software training included in your subscription
Support available all year round by email or by phone by appointment
Free trial period of 30 days from the date of the order (shipping within 48 working hours)
We share the shipping costs with you, i.e. 250 $ / € for delivery in Europe and North America, 500 $ / € in Asia, 600 € / $ in other territories.
Equipment guaranteed and shipped within 5 working days in case of failure
Delivery within 48 hours upon receipt of the order
---
DETAIL ON "SIGN-UP FEES" : Due to their value, our products are delivered in professional transport cases (60 * 80 * 45cm, ~ 18kg) by premium DHL-type carriers all over the world. We bear 50% of the delivery costs, and therefore we apply registration fees depending on the area where we have to deliver the products, i.e. the remaining 50% (250 € for Europe and North America , out of a total of € 500, € 600 for the rest of the world out of a total of € 1,200). These fees will only be charged once, upon registration. In the event of returns, the return costs are the responsibility of the customer, even during a free trial period.
At any time, you can also for a custom quote.
---
DETAILED CONTENT OF THE PACK
Sport Tracking v4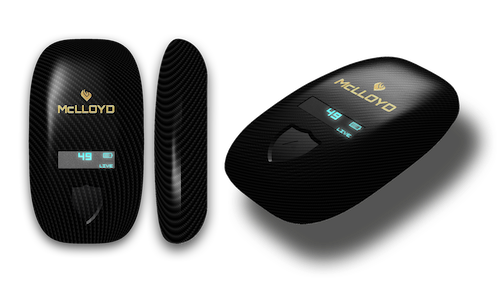 Quad-constellation GNSS sensor (GPS / GLONASS / BEIDOU / GALILEO) 10Hz + SBAS
Custom GNSS antenna with vertical native radiation and circular polarization
9-axis IMU : 1300 Hz accelerometer / gyrometer / magnetometer, transmitted at 100Hz to IU
2000 Degree / sec 3D gyroscope with an accuracy of 0.1deg
Accelerometer 3 axes +/- 16g 1 / 100th g of precision
Cardio : BLE: 5.0 backward compatible 4.2, 4.0
Dimensions: 44x77x20mm
Weight: 43g
Shock resistant and weatherproof
Induction charging (charging case) in less than an hour
8 hours of autonomy in offline mode / 6 hours of live transmission
5 minutes to unload 20 trackers
1 month of memory in daily use
---
Sport vests

The vest has been specially developed to keep the Sport Team V4 tracker in place at the level of the shoulder blades during physical exertion.
It can be worn in training or in matches.
Bra guaranteed for 300 washes at low temperature (30 ° c)
Comes to the same number as the number of Sport Team v4 trackers
Size M to XL (we will contact you by email when we receive your order)
---
Unloading antenna

Easy-to-use USB antenna to connect to a computer for offline data downloading.
15 trackers can be downloaded simultaneously at a speed of 2mo / sec. (approximately 10 minutes of data unloading for a two hour session with 15 players).
You can access your data at the end of your training session or your match.
---
Transport and charging case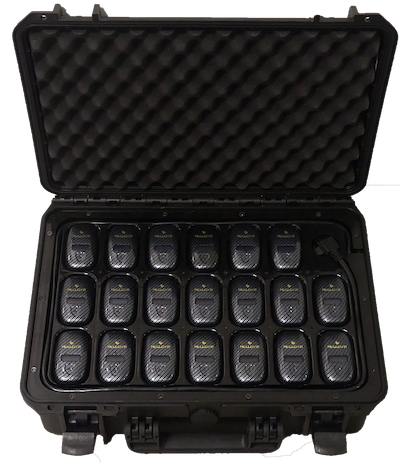 Allows secure transport and inductive charging of 20 trackers simultaneously.
The case connects to a standard electrical outlet.
Case waterproof, dustproof and shock-resistant.
Beyond 20 trackers ordered, a second suitcase is provided.
---
McLloyd Sport tracking software

Software allowing the representation, the plotting of graphs and the creation of reports through the key indicators: Speed, distance, acceleration, impact, biomechanics.
Live indicators (Live option) or after data download
One-click graphic visualization
Editing a report in less than 5min after the end of the session
Full player profile
Cutomizable definition of areas
Alerts
Heat Map
Export of CSV, PDF data
AMS export
Data tagging
Recommended hardware configuration: I5 / 8gb ram processor / ssd hard drive (250gb capacity) / macOS 10.12 or newer or Windows 10 Redstone 1 or newer.
---
OPTIONS
CARDIO (not included) : Heart rate vest + sensor + data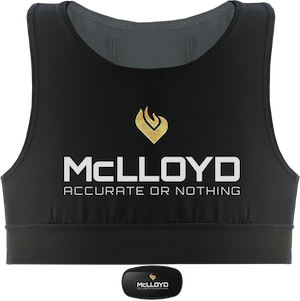 The cardio bra was developed to address the need to measure metabolic load during training and games without discomfort.
1-lead ECG at 500Hz using dry carbon nanotube electrodes allowing measurement of heart rate (HR), heart rate variability (HRV) and their derived measurements. This makes it possible to measure, among other things, stress and fatigue levels.
Data transmitted in real time by Bluetooth Low Energy (BLE) to the GNSS unit which either transfers them in real time or keeps them in memory.
Bra guaranteed for 300 washes at low temperature.
---
Live option (included) : Crystal8 protocol

 

gateway + live data

Real-time communication: Cristal 8: proprietary Mac Lloyd patented technology. This allows data transmission without interference even in environments at risk of strong RF interference (full stadium, live television, etc.) and allows a range x4 compared to Standard Wifi.
Software: all indicators in real time, configurable alerts.
Up to 50 players followed simultaneously.
Light and space-saving antenna: 30x10x5cm + foot.
Strong and weatherproof.
USB connection
---
Premium Support (not included)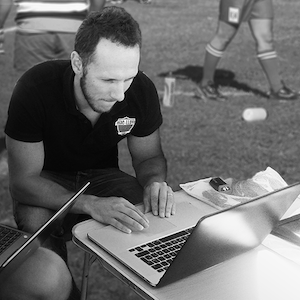 This offer does not include premium support (€ 19.99 / month per unit). Description of premium support:
Installation / support by our expert in physical preparation and data analyst (10 years of experience in professional sport).
Direct access and unlimited calling 8 am-8pm Monday to Friday
Guarantee to replace defective equipment within 48 working hours.